July 26 - 28 - Washington, DC. The USBC National Conference is the premiere educational business summit for Chamber Leaders and Entrepreneurs. This 3-day conference provides attendees with access to make invaluable connections and learn business growth insights from dynamic business leaders.
Conference Details: 
Date: July 26th-28th
Time: 9am-5pm
Place: Gaylord Resorts, 201 Waterfront St. National Harbor, Oxon Hill Maryland 20745
Book Your Hotel: 
Dates: July 26th-28th
Hotel Address: Gaylord Resorts, 201 Waterfront St. National Harbor, Oxon Hill Maryland 20745
Hotel Phone Number: 301-965-4000 
Early-Bird Ends July 2nd: $159 per night
 Questions: 
Email: send an email with the subject line "2018 Conference" to

This email address is being protected from spambots. You need JavaScript enabled to view it.
USBC Office Number:
(202) 463-8722
USBC's School of Chamber & Business Management Video Recap & Conference Highlights
USBC is proud to receive funding for its Chamber affiliates. Special thank you to Wells Fargo for their sponsorship and continued support.
With the generous support of our sponsors, our attendees enjoyed 4 days of plenary sessions, luncheons, and customized workshops catering to Chamber Leaders, Business Owners and Young Entrepreneurs.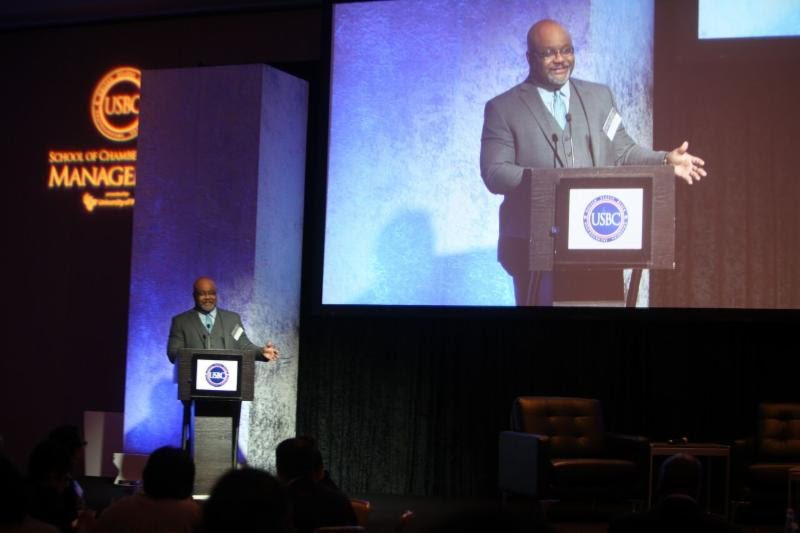 Dr. Boyce Watkins gives a candid perspective and analysis on the economic condition of the Black community. 
 Ed Gordon, Ron Busby, Dr. Jeffry Ogbar, and DeRay McKesson connect after the advocacy panel discussion.
Roland Martin moderates a panel with esteemed Church leaders to discuss ways to leverage the Black Church to promote entrepreneurship. 
Howar

d Jean, founder of the Black Male Entrepreneurship Institute co-hosts USBC's Young Entrepreneurs Reception. 
 Chamber Leaders discuss best practices and share resources.
The upcoming presidential election is of crucial importance. During this panel conference attendees received insights and perspectives from political commentators and thought leaders including Marie Johns, Micheal Eric Dyson, Reginald Chambers, and Tara Setmayer. 
In the final term of the nation's first Black President, USBC visited the White House and to provide conference attendees with a White House business briefing. 
Special Thanks to Our Sponsors: